So, one of the causes closest to my heart is finding a cure for multiple sclerosis! I'm always looking for different ways to donate my time and money for programs, research, etc. So, imagine my delight when I came across these cute "We ♥ To Erase MS" orange tees (I ordered mine last week)!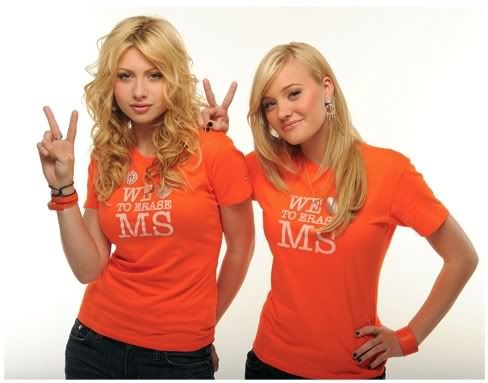 These tees were designed by Tommy Hilfiger, a long-time supporter of MS research, and 100% of the proceeds support the Nancy Davis Foundation for Multiple Sclerosis. The signature event for the Nancy Davis Foundation is the celebrity-filled gala, "The Race to Erase MS" featuring among many other things a celebrity fashion show by Tommy Hilfiger. This year was the 15th anniversary of the gala and raised over $2 MILLION dollars to support MS research!
Click here for more information on the tees! While you're on the site, be sure to check out the other stylish merchandise for sale including super-chic orange leather bracelets from Alexandra Richard and some flirty orange nail polish…Just in time for summer!
KB