Home is where the heart is. It is also a place where kindness and service can thrive. As COVID continues to impact communities. there continues to be a great need by organizations for volunteer support and donations. Many organizations are still limiting in-person volunteer activities but that doesn't mean you can't still help. We've really embraced at-home volunteer activities over the past year and a half. Being at home has actually made it easier for us to help out, especially with our boys still being pretty young in age.
The Value of Volunteering as a Family
Any time that we spend together as a family is a time well-spent. When you add in the do-good aspect, it really takes the occasion to the next level. Volunteering together reinforces the fact that giving and kindness are key values in our home. I also get a chance to lead by example and show the boys what it means to serve others. Kids are like sponges so I'm always trying to be intentional about what I'm exposing them to, in an age-appropriate way.
At-Home Volunteer Ideas for Families
Over the past year, we'd done a few at-home volunteer ideas for local organizations. Some were coordinated by groups that we're a part of. And, others were projects done for our local food pantry. You know we decided to support our local pantry with our family giving plan. Here's a short list of volunteer ideas that our family has been able to do at home.
Make or color "get well" cards
Assemble personal hygiene kits
Pack meal kits for the unhoused
Bake treats for a local shelter
Donate gently loved toys and clothes
Make no-sew blankets to provide to hospitals or nursing homes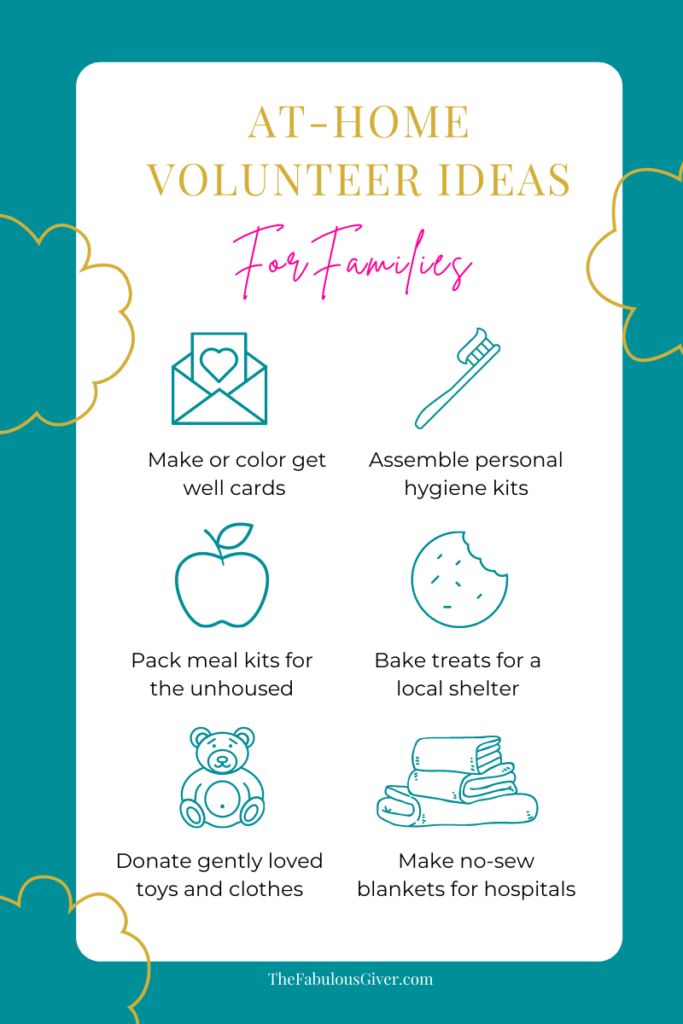 Here are more ideas to explore. With the holiday season approaching, I know there will continue to be plenty of opportunities to participate in at-home volunteer projects.
Have you volunteered at home since the start of COVID? What did you do?