Here in Chicago, it is a balmy 41 degrees outside. Needless to say, we are firmly locked into fall right now and are slowly tipping towards winter. Oops, I'm not supposed to use the "w" word yet. But, you know it's coming. To help keep my mind off the snow, I've been diving into the joys of fall in different ways than before. One new area of exploration has been lipsticks. I've actually built a little lipstick collection and wish list. Who am I? Remember when I was asking for makeup recommendations on Instagram? My how things change.
This fall, I've been playing around with different lipstick shades and formulations. But, I'm largely set on purples/pinks right now, with some reds on my radar. Here are the fall lipsticks that I'm crushing on right now.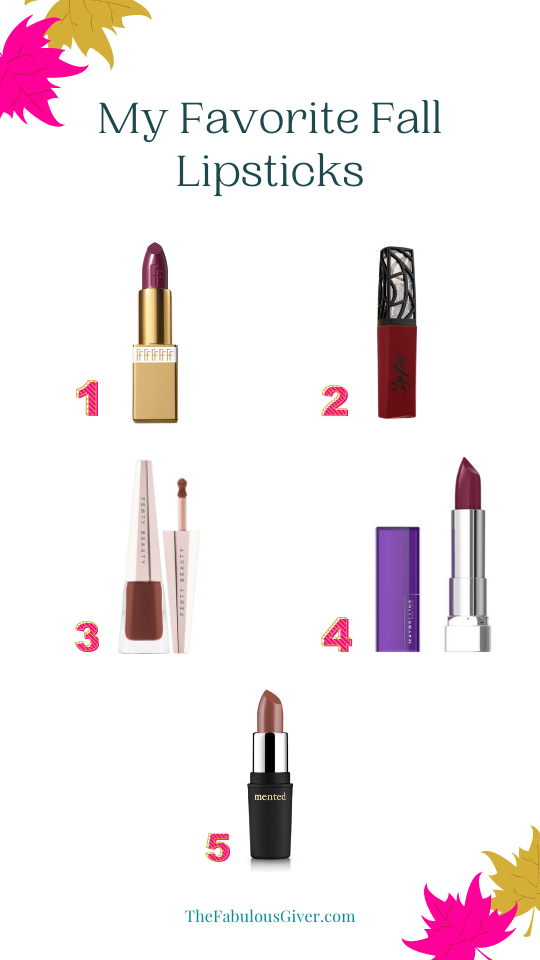 1. Pure Plum – Fashion Fair (Black-owned) 2. Bawse Lady – The Lip Bar (Black-owned) 3. Unveil – Fenty Beauty (Black-owned) 4. Berry Go – Maybelline 5. Brand Nude – Mented Cosmetics (Black-owned)
The colors above stay in heavy rotation during my Teams calls. I've even had a few friends call me out on my recent and visible embrace of lipstick. It's an easy way for me to feel put together and break up the routine of working 100% from home over the last 26 months. However, you find joy, you have to grab it an hold on tight!
I'm almost ready to stop shopping but there are two more shades that I want to grab this month.
M.A.C. Viva Glam I (This has been on my wish list for awhile. I need to pull the trigger.)
What lip colors are your go-tos during this fall season?