I've always heard the phrase, "Don't show up at anyone's house empty-handed." So, I was always good for a bottle of wine and, in recent years, a strawberry shortcake from Mariano's. But, as the world opens back up, gatherings have taken on an added layer of intentionality as we all weigh who we will invite into our spaces. So, I've been giving more thought into hostess gifts and ways to say "Thank You" to those special hosts and hostesses. Taking it one step further, I started researching simple hostess gifts that are connected to a cause or purpose. Double the good, double the impact.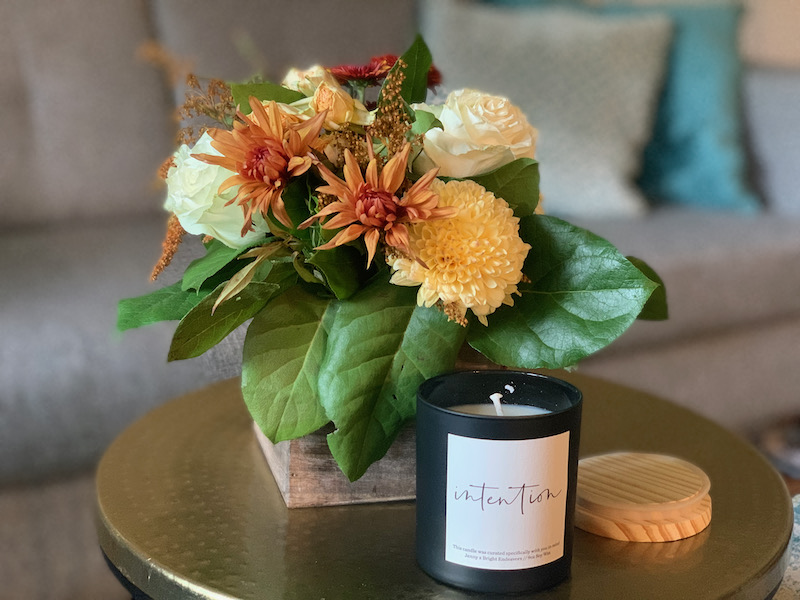 The photo above shows off two of my picks for charitable hostess gifts. First up, a fall bouquet from Flowers for Dreams and then the Intention candle from Bright Endeavors. This candle was a limited edition collaboration between Bright Endeavors and Jenny from MamaFresh Chicago. This specific candle is sold out, but there are more options on their website. I love these two local brands that are making a difference.
They are the only companies serving up great gifts for greater good. I promised you 15 thoughtful and charitable hostess gifts so let's get into the rest of the list below!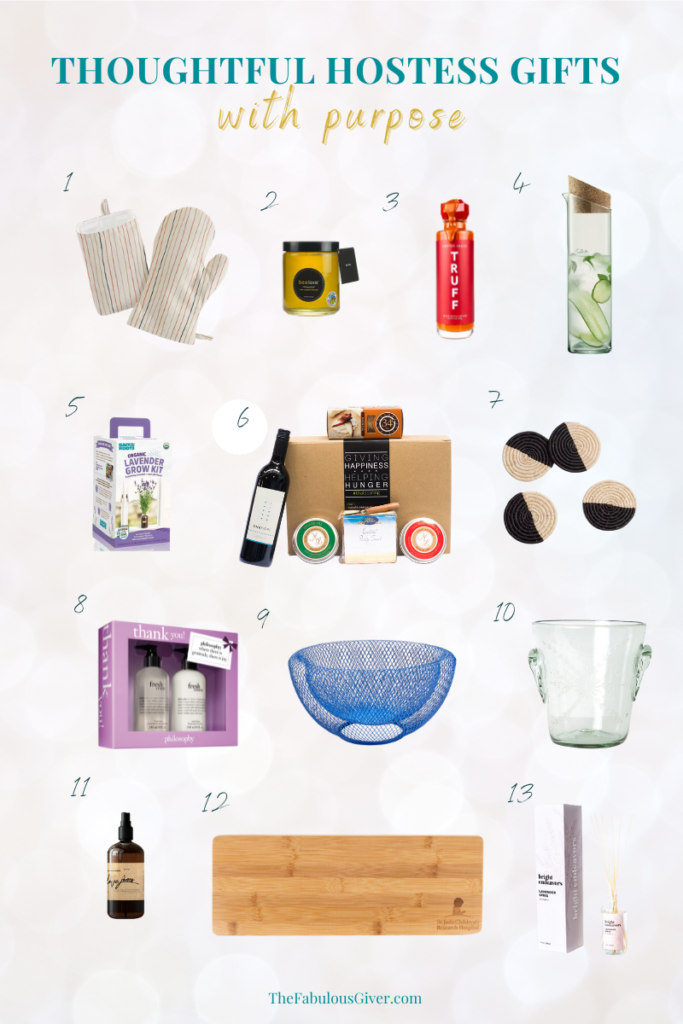 Mitt and potholder set ($26) // Raw honey ($15) // Truffle-infused hot sauce ($15) // Carafe ($45) // Lavender grow kit ($25) // Cheese, crackers and wine gift box ($54) // Coasters ($39) // Fresh cream hand set ($28) // Wire mesh bowl ($50) // Etched glass ice bucket ($88) // Room spray ($28) // Bamboo charcuterie board ($20) // Lavender sprig reed diffuser ($25)
I hope that this list inspires you to be more intentional with what you bring to the party. For more ideas, check out my Mother's Day gift guide. Many of those items could also work for this occasion.
Happy gifting!