There's no gift that you can get that could adequately measure the love and sacrifices of mothers and mother figures. But, for the women who uplift and shape the future, you can always try. It's certainly easier when you purchase Mother's Day gifts with purpose. I'm so excited to share this roundup of gifts that support some important causes, both domestic and abroad.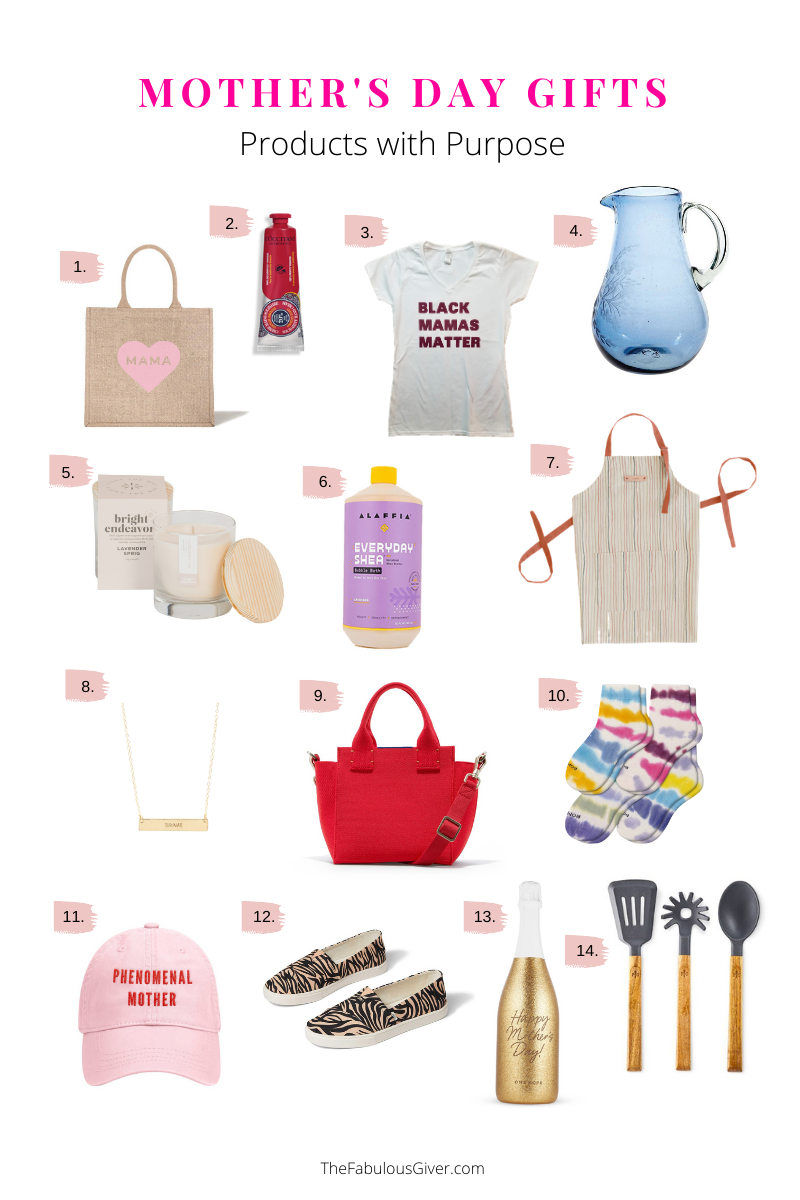 Items: 1. Mama Shopper Tote, $24 // 2. Solidarity Hand Cream, $12 // 3. Black Mama Matters V-Neck Tee, $30 // 4. Etched Round Pitcher, $78 // 5. Lavender Sprig Candle, $22 // 6. Lavender Shea Bubble Bath, $15 // 7. Strands of Tradition Apron, $40 // 8. Horizon Personalized Necklace, $70 // 9. The Mini Handbag, $175 // 10. Lightweight Tie-Dye Socks, $68 // 11. Phenomenal Mother Baseball Cap, $35 // 12. Tiger Alpargata Slip Ons, $60 // 13. Mother's Day Edition Sparkling Brut, $49 // 14. Silicone & Wood Utensil Set, $30
This is one of my favorite roundups that I've done. Not only are these these all super cute items that I would love to receive (*hint, hint*), but they are raising awareness and dollars for some worthy causes. Purchasing items that give back is an easy way to incorporate more giving into your everyday lifestyle. Learn more about the products below.
Supporting mothers:
Supporting women:
Supporting environment:
Supporting community:
If you're looking for ideas for next month, definitely consider buying Mother's Day gifts with purpose from one of these amazing brands.