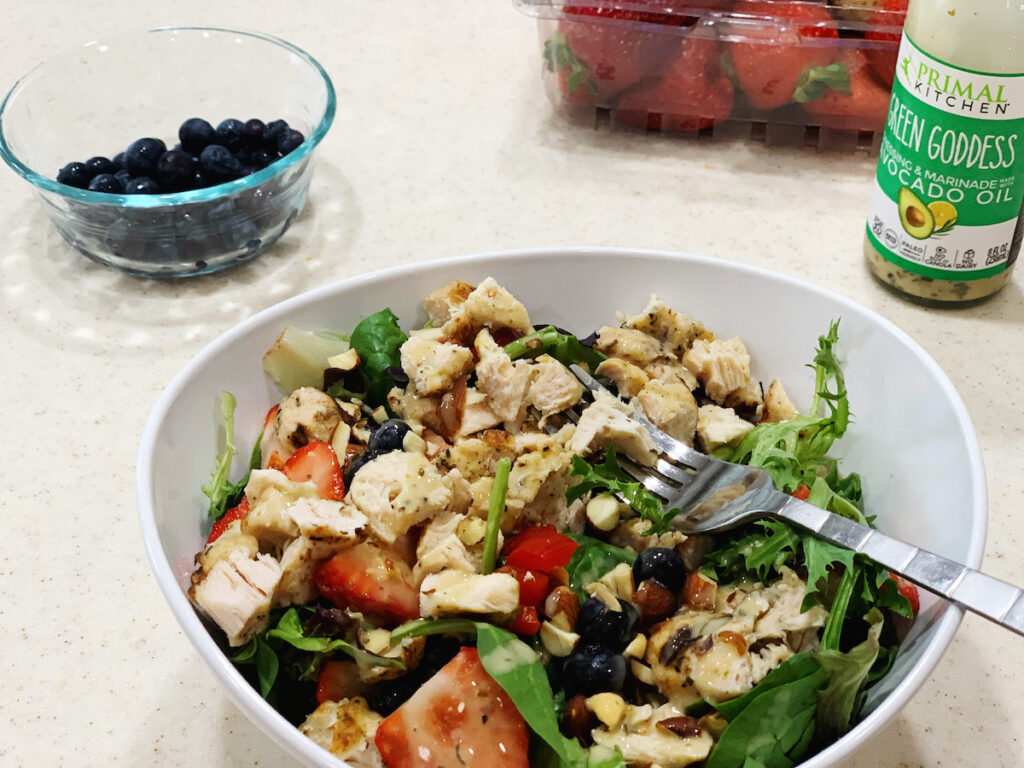 I may have found THE salad for my summer. It has bright flavors from summer berries, some crunch and the plenty of dark leafy greens. I present to you my Green Goddess Chicken and Berry Salad. I started making this salad during Whole 30. For those of you unfamiliar with Whole 30, it's a 30-day elimination diet where you avoid (a long list of) specific foods that may lead to inflammation and other digestive troubles. There are more things that you can't eat, compared to thing that you can eat.
Because of this, I have to be very creative when thinking of meals that will keep me satisfied – both in taste and in consumption. Given that it's the summer, I figured that salads would be a staple in my meal plans, especially for lunch. I was experimenting when I first made this particular salad. But, immediately I was hooked. In fact, I made it five times in three weeks.
There are so many great flavors in this salad. I use a straightforward base of mixed greens and berries. But, you could also experiment with additional fruits, like oranges, or avocado. As long as you keep the berries, it's hard to go wrong. I also used a Whole 30-compliant Greek Goddess dressing. If that's not important, you can use any Green Goddess dressing that you'd like.
Green Goddess Chicken & Berry Salad (Whole 30)
Ingredients:
Chicken breast, cooked and cut into pieces
Mixed greens
Spinach
1/2 red pepper, sliced
1/4 cup of fresh blueberries, rinsed
3 strawberries, rinsed and sliced
Green goddess salad dressing (This one is Whole 30 compliant)
Sliced almonds for topping, optional
Steps:
Place the mixed greens and spinach in your bowl.
Top with the chicken, berries and red peppers.
Pour the dressing over the top of the salad.
Add sliced almonds, if you'd like.
If you try this salad, let me know!