Welcome to The 13:13 Series, a blog series that focuses on faith, hope and love for the first 13 days of February. Today is Day 2. Catch up on past posts here.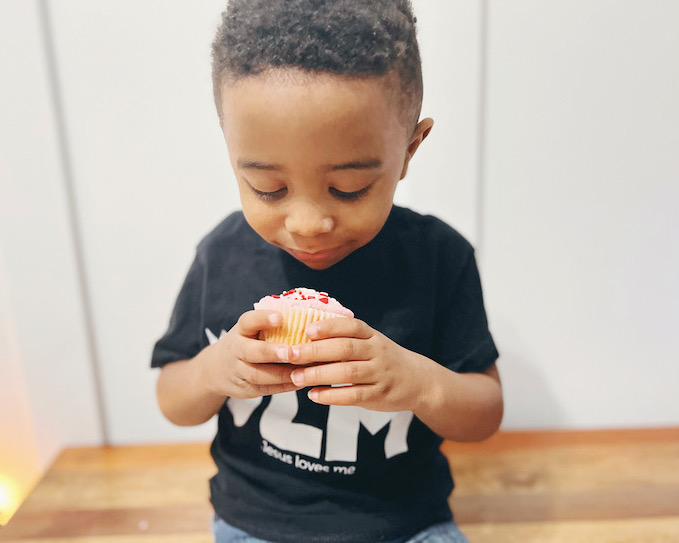 I've always grown up in church and with examples of my family serving in ministry. My mother was a faithful Sunday school teacher and member of the media ministry. My father and uncle are both ordained ministers. And, my grandmother has been a church usher since before I was born. Each one of them has contributed to the foundation of my faith. And, my hope is that I will do the same for my children.
I'm grateful that I've had the freedom to map out my own relationship with "The Church" and my personal thoughts about the Christian faith. When my boys are older, I will allow them the same space. They are still quite young, so I view my role as a guide. They are watching me so I do my best to set a strong example. But, sometimes I need help. Thankfully, I found it.
Building on my first Bite-Sized Believer blog post, I'm going to share three tools that I refer to while raising my children in faith.
Parent Cue
I was introduced to this app through my church. Its focus is helping build "faith and character" within children. Each week, I can access age-appropriate bible lessons, activities and memory verses for the boys. Their blog also covers a wide range of parenting topics, from life hacks to navigating life phases like the toddler years. The Parent Cue app is free and you can get more details here.
The Tiny Truths Bible
Funny thing… I actually saw this illustrated kids' bible on one of Kim Kardashian's Instagram stories years ago. She showed the cover and I was immediately drawn to the brown faces on the cover. An accurate description of Bible stories for children? I was in. There are more than 30 stories from both the Old and New Testament. I use this to supplement Sunday school lessons or to illustrate a topic like God helping us do hard things (see: David and Goliath). We've had this bible for two years now and it is still in heavy rotation!
Our church's student ministry
Before we moved to our current suburb, we attended a large megachurch that had an INCREDIBLE student ministry. I really saw how dedicated teachers and activities could really bring the Bible to life our boys in a memorable way. Our current church has the same vision for the children. We have weekly lessons, monthly Zoom meetings and year-round engagement opportunities. They get memory verses and activities that I then reinforce throughout the week as we navigate through life. I'm so grateful to have a church home with these resources for us.
While faith is a personal journey, similar to parenting, you don't have to go at it alone. If you're raising your children in the Christian faith, definitely check out these resources. I'd love to hear your recommendations too!