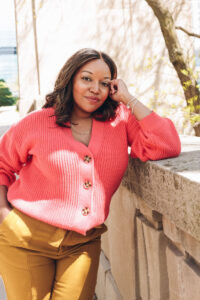 As I grow personally and professionally, I also want to find ways to increase my support for the causes that matter most to me. But, there are only so many hours in a day and so many dollars in my pocket. So, for the past two years, I've made a personal giving plan. It helps me loosely map out my year and align my efforts with related activities. It's one thing to set an intention, but a plan is the only way to see it through.
Last year, one of my primary goals was to join a nonprofit board. I did that and also was elected to the Executive Board for my Jack and Jill chapter. Another goal was to increase my donations for two organizations and get the boys more active in service projects on a quarterly basis.
Looking at 2022, I plan to do many of the same things as last year. However, I do want to step up my actions in support of maternal health. Since having Caleb, I've spent time reading about various issues and researching organizations that support the health of Black mothers. But, I would like to be more active, especially with grassroots support and fundraising here in the Chicago area.
Here are the other key points on my 2022 giving plan.
The above highlights are not exclusive. As the year progresses, I may flex this plan to add in other pressing desires or narrow down the list. It's not meant to be prescriptive. It is more like a guide.
If you're trying to build your own personal giving plan, check out these other posts to help inspire you.